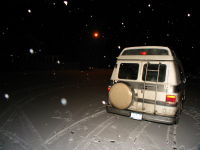 …Lawerence, Kansas! Another city, another friend's poor fortune to have us crashing on their floor. The touring life has been pretty good to us so far, now that we're a week in. We've played to some awesome crowds in Cleveland, Fort Wayne, Milwaukee, Minneapolis, and Chicago.
We were scheduled to play in Des Moines last night, but due to a blizzard we had to unfortunately blow through town. It was a shame, we really liked the venue. Don't worry Des Moines, we'll be back… in the summer.
Today we play at Bishop Seabury Academy here in Lawrence, something we've been seriously looking forward to.
We've still got a pretty long road ahead, a road that takes us through the great plains, over the rockies, down the coast of California, and through the scorching desert to Texas… then up to Canada and down trough the NE in warmer climes.
For a few photos of our adventures so far, check out this
We'll see you soon!
3 Responses to "Greetings from…"
carol Says:


At least one fan is following your tour in photos. Was Chris shaving his legs while driving?

Bill Says:


The XYZ Affair rocked Lawrence's socks off-what a fantastic show!!!! As the students say, you guys are Tight!!!! Awesome job and thanks for playing!!!! Man what a great show!!!!

Megan Says:


Hey!!!! You guys gave an awesome concert at Seabury!!! I really like your music!!!
Thanks for coming!!!!!
P.S. The "Bouncer/Bodyguard" at the door says great job!!!