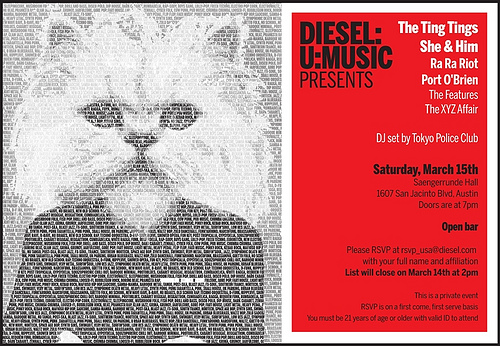 We're having an amazing time here at SXSW. It's quite an overwhelming scene at times, but we've still been able to see some great music and some good friends from all around the country. We played our official showcase Thursday night at the Hilton Garden Inn, which was a lot of fun. The SXSW crew was extremely helpful and very very nice.
Friday morning we hung out with our good friend from the road, Steve Poltz, who is probably one of the best story tellers on the planet. He took us out to Lockhart Texas where we had Kreuz Market barbeque. We've been told that this is the mecca of texas (perhaps even ALL) barbeque. Thurston Moore apparently agrees, he popped in a few minutes after us for his share of spare ribs and brisket. Steve said hi, the rest of us were a little too petrified.
We had a show at 5 yesterday at what was supposedly a gay leather bar. The party was called "SXS&M." Now, for four guys who sing like girls and turn their amps up to 11 like AC/DC, we were pumped. We really thought this was going to be "our kinda crowd." But we showed up and there was hardly anyone there, much less burly men in nothing but chaps and leather hats. So we played to the bartenders and a few friends who had caught us at our showcase the night before. You win some, you lose some.
Friday night we caught some friends' showcases and hung around on the town a bit, feeling a little more acclimated to the swarm of people and the thunderous drumming pourning out of every doorway. Today, we'll set up at the Brooklyn in Austin party at Spiro's and rock their faces off, then head straight to the Diesel party at the Saengerrunde Hall, where with any luck will bowl with M Ward and Zooey Deschanel after we blow the doors off. XYZ out.