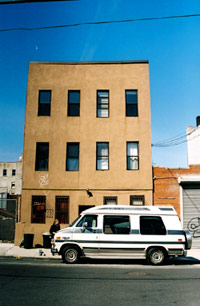 The odds were against us — with a starter that wouldn't start, a muffler hanging on by a thread, and an engine that sounded like a wheezy old man running a marathon, we were sure the van would croak before we pulled up to our house. Somehow, by the grace of some higher being, she made it in fine style. Over 11,000 miles and the only things we needed to replace were the transmission, the tires, the battery, the exhaust system, the wiring, the starter, the headlight, the tie rods, and maybe the entire suspension.
It's time to put this van to pasture.
Thanks to everyone who came out to our shows during the last 5 weeks. Thanks to everyone who helped make the tour happen, including car mechanics all across the lower 48. Thanks to everyone who let us crash on their floor. Thanks to Motel 6 for having such great rates, but more thanks to Super 8, for having the same rates, but also throwing in a bottle of shampoo. Thanks to the club promoters and owners. Thanks to our family members who cooked us awesome meals. Thanks be to Ja we made it home alive.
We'll be working long hours over the next month to produce material for our next album. We're jazzed to be able to spend a chunk of time devoted to the band and hope to come out the other side with some mind-blowing songs. Then, come May, we'll hit the road again for a short spell, hitting the eastern seaboard on our way to the south. We'll be playing with some great acts/bands including Travis Morrison and Jukebox the Ghost, so don't forget to check out our shows page! We'll also be working on another national tour, and finding a new van that'll go the distance. Who knows, we may even pop out a new music video in the midst of all this ruckus.