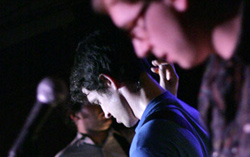 Bryan Bruchman (aka Subinev) took some rad photos of Saturdays Mercury Lounge show for Prefix magazine. Check them out HERE.
On a related note, we just came off 10 days of touring with Jukebox the Ghost, which proved to be a great time! Along with "the Juke" we played for over 1,500 people in Baltimore, changed a number of tires, sampled a little southern hospitality and made up dirty lyrics to each others songs.

It wrapped up touring for the spring, but we'll be back in July with another few weeks of our traveling circus, and we'll be toting some new ammunition when we do it. By June 1st (should the gods smile upon our endeavor) we'll have a new EP available at the shows and in our online merch shop, so check back often.
We're heading in this week to start recording with Britt Myers of Great City Productions who mixed our last album. We're pretty sure it's going to simultaneously melt faces and shake some butts.