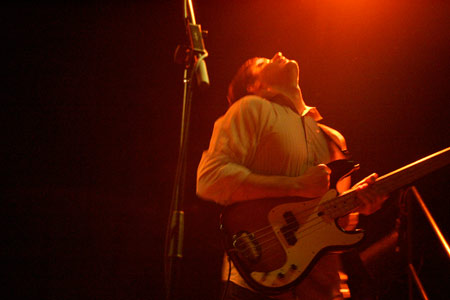 Thanks everyone who came out to our Music Hall show on Tuesday night despite the rain and the early evacuation of the Death Cab show at McCarren Pool. We we're biting our nails there for a bit, but you guys showed up ready to be run over by the steel-belted radials of our rock. Thanks also to Michael Dote for taking some cool photos of the night (like the one above).
update: Michael interviewed Alex concerning his thoughts on intelligent pop music, the animal kingdom and what the "bottom five" is. Check it out

On an entirely separate note, we're currently working out the choreography to our new video. For those of you not privy to such information: dancing is hard. Even easy dancing! We'll have some "making of" footage soon to prove it. We're shooting next week at an undisclosed location. We'll keep you updated as to our progress.